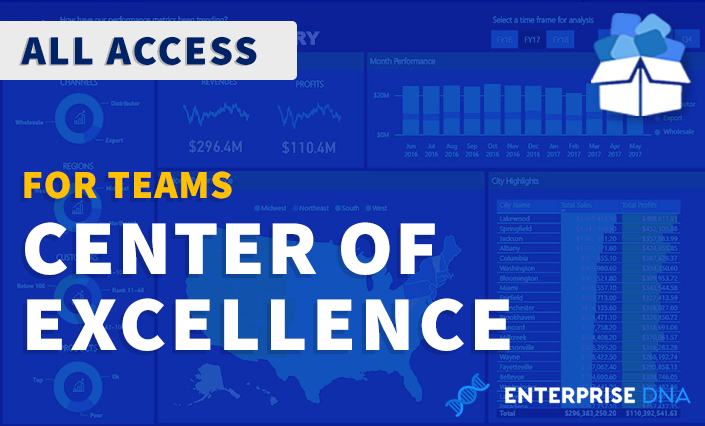 Enterprise DNA Center of Excellence
Creating the most valuable analytical teams & organisations using Power BI around the world
An outline of Enterprise DNA Center of Excellence
The CoE is Enterprise DNA's new Power BI partnership offering for teams and organizations. Depending on your requirements, we have a range of different products and services that can empower your analysts, data professionals and executives in successfully implementing and managing a Power BI rollout.
The CoE program is much more than just training content, even though this is still a significant part of the offering. We've also included a range of new and improved; assessments, surveys, certification testing, resources, events, web based applications and more to make any Power BI deployment a huge success within organisations of all sizes using Power BI in some form.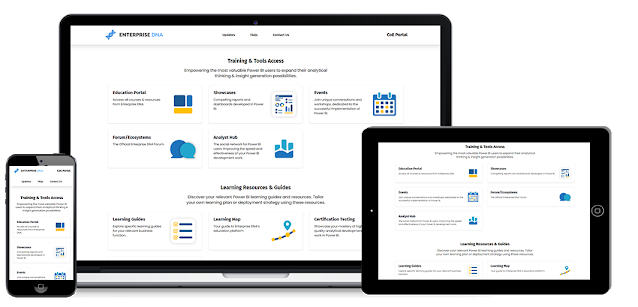 A Summary Of Everything Included In CoE So Your Team Can Master Power BI
All future course updates & additions included with your subscription
Customized Learning Maps and Guides to support your learning
Skills Assessments & Surveys to manage a Power BI deployment successfully
>50 hours of training videos to use as a detailed reference for future learning
50 demo data sets for varied practice
60 pre-developed Power BI models & reports to learn and practice on
80 page DAX Reference Guide
Over 200 model downloads referencing nearly every analytical Power BI technique you can think of
Unique analytical concepts for Power BI only taught within these course modules
Access the Analyst Hub web applications to streamline Power BI development
Enterprise DNA Support Forum access
Enterprise DNA Ecosystems Community connect with other members directly in your industry and/or a business function
Enterprise DNA Knowledge Base guided learning documentation
Invitations to exclusive virtual training events Over 25 events per year
Individual course completion certificates
Become Power BI certified by Enterprise DNA and showcase your advanced analytic skills globally
Frequently Asked Questions
What currency is the price in?
All pricing is in US dollars.
Can you create an invoice for my company?
An invoice will be created by our team for you to settle your Enterprise DNA Center of Excellence's annual subscription.
Do you offer one off support or coaching?
All support around Power BI and Enterprise DNA's online training content now occurs at the Enterprise DNA Support Forum.
Can I buy one license and share it with other people?
You can transfer your license if a user or employee leaves your organization or after user has had their license for one year.
Can I reduce the number of licenses for my company anytime?
You can only reduce the number of licenses assigned to your company before you renew your contract.
Are there any limitations of what I can access?
With Enterprise DNA Center of Excellence, you may access all courses, resources, Support Forum, and join corporate events anytime for as long as your license is active. All access is managed through the CoE portal.
What if I need to train more than 100 people?
Passionate about empowering users of Power BI
"My goal is to teach others that you have almost unlimited analytical power when harnessing all the features in Power BI.
Through training across a number of different mediums, I've reached over 100,000 Power BI users, showing them a range of tips and tricks in Power BI development.
I'm a true believer that Power BI is the future of analysis and know individuals with the right training can now create advanced analytics in a scalable way that can have a real impact in the way insights are found and consumed within organisations."
Sam McKay, CFA - Founder & CEO, Enterprise DNA