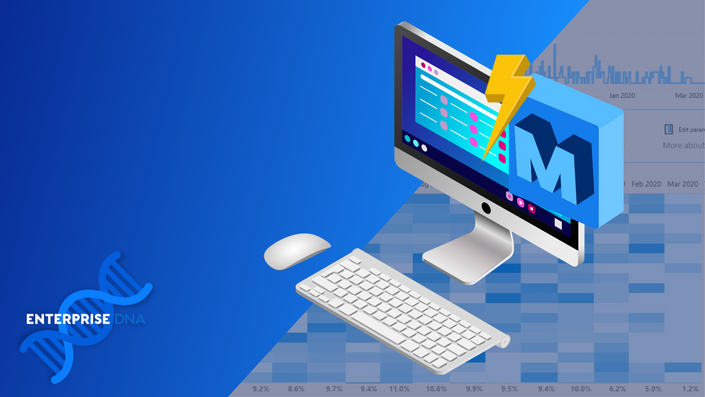 Applied Problem Solving with Power Query/M
Deepen your understanding of the Power Query/M concepts through practical application
An outline of this training course

True to our promise of giving you a practical content as follow up to our Power Query/M Masterclass, Melissa de Korte prepared a course that is centered on applying M concepts to solve six different scenarios. She, together with other experts, will guide you through the process of breaking down a practical problem and show you the solution using Power Query/M.
The course is perfect for Power BI users who know the basics and are ready to get some advanced Power BI knowledge through Power Query; have started using Power Query and are hoping to understand the topic better; have started using Power Query and are looking for a different approach; those who are looking for ways to use Power Query in their line of work; and those who are looking for specific scenarios where Power Query could prove useful to them.
To get the full benefit of the course, it is advisable to take the Data Transformations and Modeling course by Sam McKay and the Power Query/M Masterclass by Melissa.
Applied Problem Solving w/Power Query/M - can also be accessed through a purchase of an Enterprise DNA On-Demand or Center of Excellence License.



Details of what you will learn during this course
• Gain - a better understanding of how to apply the fundamental building blocks (table, lists, functions, etc.) of Power Query/M to solve practical problems
• Better understand
- the expert mindset in how to break complex problems down into manageable pieces, and then use those pieces to construct a full solution
• Learn

-

new techniques and reusable patterns that can be applied to a wide range of problems
• Expand
-

Power Query/M skills, thereby improving your data model, enhancing your report performance and simplifying your DAX
What you get with the course

• Over 5 hours of discussion on problem-solving using Power Query/M
• Resource pack

Testimonials

For a list of all courses available through Enterprise DNA view here
Frequently Asked Questions
How long do I have access to the course?
You will have access to the course for as long as your Enterprise DNA subscription or CoE license is active.
Can I purchase a single course instead of the full Enterprise DNA On-Demand ?
The option to purchase a single course has been discontinued. To access any of our courses, you will need to upgrade to full subscription
here.
Do you offer one-off support or coaching?
All support around Power BI and Enterprise DNA's online training content now occurs at the
Enterprise DNA Forum
. You must have an On-Demand subscription or CoE access to receive support.
What if I need to train my team?
We recommend exploring Enterprise DNA Center of Excellence platform. To learn more,
see here
.
Passionate about empowering users of Power BI
"My goal is to teach others that you have almost unlimited analytical power when harnessing all the features in Power BI.
Through training across a number of different mediums, I've reached over 100,000 Power BI users, showing them a range of tips and tricks in Power BI development.
I'm a true believer that Power BI is the future of analysis and know individuals with the right training can now create advanced analytics in a scalable way that can have a real impact in the way insights are found and consumed within organisations."
Sam McKay, CFA - Founder & CEO, Enterprise DNA